10 best hotels in Goa
Our top picks
Lowest price first
Nearest to
Best reviewed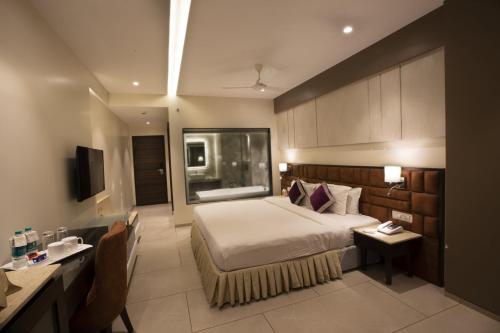 See all
The Flora Grand
Vasco Da Gama,Goa - View on map
Airport transfer
Car park
Shuttle service
Free Wi-Fi in all rooms!
Swimming pool [indoor]
Fitness center
Front desk [24-hour]
Check-in/out [express]
"We stayed here for one night as we arrived into Goa at 1am. The staff were kind and helpful. The room was spacious and well decorated. There was a good selection of tv channels too. Breakfast was limited but nice. The chef made us fresh omelettes and the staff could not have been more helpful. I was not able to check out the surrounding area however the hotel is on a very busy street and we were woken at 7am by extremely loud banging and hammering, by what sounded, as the room directly above us. This was the biggest downfall as we had chosen this hotel to relax after a 10 hour flight and unfortunately we left this hotel feeling more exhausted than refreshed. "
Show more
See all
Golden Tulip Goa Hotel
Candolim,Goa - View on map
Airport transfer
Valet parking
Free Wi-Fi in all rooms!
Front desk [24-hour]
Swimming pool [indoor]
Golf course [on-site]
Check-in/out [express]
Luggage storage
"My stay at Golden Tulip Goa, was wonderful. Great value for money. The hotel was clean, modern, and all round comfortable stay. The breakfast variety was fabulous, and was different every day.Kudo's to the staff that were friendly and helpful to enlighten us around the sight-seeing in North Goa. Especially: Gayathri. I was there during the taxi strike, and was happy to be around Candolim as well as the hotel for the 2 days till the strike was over. The beach was just 2km away from the hotel. Room for improvement: Maybe up the room price abit, but have free Wifi, especially in common areas. As relayed to the manager, the Spa needs alittle work regarding their techniques. I used this once, but found it was better at Spa centres close to the hotel. Thanks Golden Tulip Goa for an amazing stay and look forward to visiting you again. "
Show more
Avg price per night
$ 101
See all
Rio Boutique
Porvorim,Goa - View on map
Car park
Free Wi-Fi in all rooms!
Front desk [24-hour]
Swimming pool [indoor]
Bar
Restaurants
Room service
Safety deposit boxes
"What makes this boutique really good – apart from the location: which is close to most of the 'happening' and exciting places in Goa, is the value for money."
Show more
See all
Bloom Hotel - Calangute
Calangute,Goa - View on map
Airport transfer
Car park
Shuttle service
Free Wi-Fi in all rooms!
Swimming pool [indoor]
Front desk [24-hour]
Check-in/out [express]
Luggage storage
"bloomrooms@Calangute offers reasonably priced rooms just 15 mins away from the beach. The rooms are a bit small (22 sq. meters) but clean, comfy bed. Despite booking the room very late and at the absolute high point of the Goa season, I felt it was a superb deal (10K INR for 30th Dec to the 1st) considering how exorbitant rooms generally go for. It's situated just off the main road opposite Infantaria and can be tough to spot from the street (Guys put up a sign!) but google maps will lead you right to it! The pool area is nice and complimentary breakfast is very decent (the coffee really needs work though). It doesn't look like much when you walk up the alley but they've made excellent use of the space they have and the white and bloomroom signature yellows are cheery and welcoming. There's iMacs for us to use (and a game room that should be ready soon) and the staff are helpful without being intrusive. Great for couples or solo travelers who come just for the sun and the sand."
Show more
See all
DoubleTree by Hilton Hotel Goa - Arpora - Baga
Baga,Goa - View on map
Airport transfer
Valet parking
Shuttle service
Free Wi-Fi in all rooms!
Hot tub
Kids club
Bicycles
Front desk [24-hour]
"i'm a frequent traveler to goa and almost travel to goa 6 to 7 times a year. i've stayed in most of the 4 and 5 star properties across south and north goa. this property is worth every penny spent.the proximity to anjuna beach and baga beach makes it the most reasonable place to stay at. looking forward to stay here again. "
Show more
Avg price per night
$ 116
See all
bloomSuites l Calangute
Calangute,Goa - View on map
Airport transfer
Car park
Free Wi-Fi in all rooms!
Front desk [24-hour]
Check-in/out [express]
Luggage storage
Swimming pool [outdoor]
Coffee shop
"We stayed in this hotel for 5 nights. I believe it is indeed one of the best choices one can make in the northern part of Goa, at least for a medium price budget. The hotel is very clean, has a very nice pool environment and a good restaurant in the hotel. It is one of the newest hotels in the area, therefore indeed clean and modern. The rooms are not extremely spacious, but sufficiently large for a limited stay. I can only say that I would go there right again if I spent again some time in Goa. This is basically the best you can say about a hotel stay ......."
Show more
See all
Red Fox Hotel, Morjim, Goa (By Lemon Tree Hotels)
Morjim,Goa - View on map
Airport transfer
Valet parking
Free Wi-Fi in all rooms!
Front desk [24-hour]
Swimming pool [indoor]
Fitness center
Luggage storage
Spa
"Service is their USP. Mr.Vidhoot in reception, Karan & Jackson at the banquet, gave us service befitting lemon tree brand. They do their best for the customer. But lemon tree seriously needs to upgrade the bathrooms & the rooms. Room size decent for a couple - a child. Extra mattress provided was so narrow,it was funny.had to ask housekeeping to find an adult size mattress.Need to provide roll on beds for extra person when they charge you for it. Breakfast spread ok, can improve their selections. "
Show more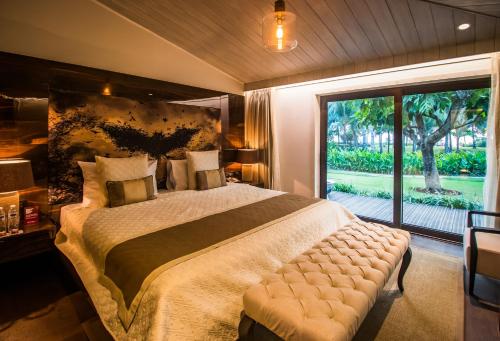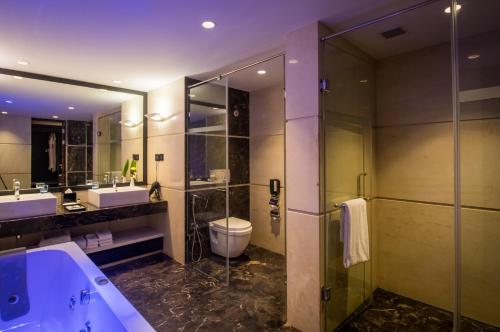 See all
Planet Hollywood Beach Resort Goa
South Goa,Goa - View on map
Airport transfer
Valet parking
Pets allowed
Shuttle service
Swimming pool [indoor]
Hot tub
Free Wi-Fi in all rooms!
Front desk [24-hour]
"This was my 3rd visit to Goa, and everytime I used to stay in North Goa near Baga beach. But this time I decided to give South Goa a try, as their beaches and the water are supposed to be cleaner. The location of this resort is good, about 15kms from the Goa Airport, not too far in the South. The rooms are excellent, although I think they were a bit dimly lit. The Staff is excellent. I was there with my parents for my birthday, and they gave us a complimentary birthday cake. :) Would like to give a special mention to Niushka at the reception desk. We arrived way too early before our check in time, but she got us accommodated in our rooms in no time. She was very friendly. All the staff are really nice people. The resort is located close to the Uttorda beach, which is nice and clean. There is only one more resort connected to the beach, so its not really crowded, which I liked it. The Swimming pool is amazing, has a pool bar, and looks amazing in the night with the blue leds inside it. Although i wished the Jacuzzi was bit more powerful :) The Breakfast buffet is one of the best. Try to get a deal which includes breakfast, lunch and dinner buffets, since I didn't like much the a-la-carte menu. They have 2 more bars inside, and the beers are priced at reasonable rates. Although I went in monsoons, and all the water sports was closed, It was a peaceful vacation for us, a perfect getaway. I would rate it 8/10, because I wished they had a bar and a restaurant at the beach, even in monsoons, which is what most people would love it. If you don't have your own car here, then you would probably have to take taxi from outside the hotel, since there is no other public transport available. The Taxi rates from this hotel are bit more on the high, 3500 Rs for 80 kms with 6hrs of cap. and 4000 Rs for 120 kms with 8hrs of cap. But hey its Goa, a touristic place, so it will be expensive everywhere :) Overall a perfect getaway place. And if you're lucky you might even spot few bol"
Show more
Avg price per night
$ 252
See all
Fenicia Riverside Resort
Cavelossim,Goa - View on map
Airport transfer
Bicycle rental
Valet parking
Shuttle service
Swimming pool [indoor]
Hot tub
Free Wi-Fi in all rooms!
Front desk [24-hour]
"We chose to end our India adventure here to unwind and refresh after exploring Mumbai , then north and south Goa. We spent 3 days here in luxury with a great pool , 24 hour cheap room service and huge bed, big TV and massive double roomed bathroom to wash away our travels so we went back home refreshed and revitalised. So glad we chose here to do it. If your wanting to explore here though it's not the best place as its a bit out of the way. But for us it was a perfect end to our holiday. the hotel is beautiful and a lovely view onto the river from the pool where you can watch kingfishers as the sun goes down . And if you love big bathrooms with their own sculpture conservatory on the end well you will love the bathrooms . Only thing I would change would be the food. It wasn't bad. Was good even, but after our travels it just wasn't very exciting . And I missed fresh watermelon and other juices which are abundant in Goa . Otherwise perfect ."
Show more
Avg price per night
$ 138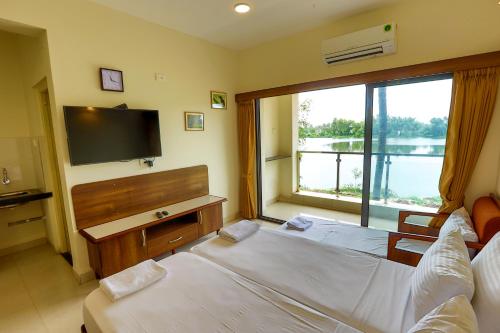 See all
Resort Primo Bom Terra Verde
Baga,Goa - View on map
Airport transfer
Bicycle rental
Valet parking
Free Wi-Fi in all rooms!
Kids club
Golf course [on-site]
Front desk [24-hour]
Check-in/out [express]
"Amazing experience. Must visit place for people who would like to escape the city To a nice peaceful and quiet Place. One of a kind Resort in North Goa. All the Staff of the resort right from the Receptionist, Room Cleaners, Gardner and all the Staff maintaining the Beautiful Resort are doing A great job. Keep it up. The Resort restaurant Has an amazing Staff as well the food is freshly prepared and just like Home made Food, when having food at this place you won't feel like you are eating food in a restaurant it's as good as home made tasty mouthwatering food. The Restaurant Manger Govid is very Courteous and Kind guy. I would like to recommend this resort to all those who want to travel to a different part of Goa away from all the Crowded Places in North Goa."
Show more
Fast facts about Goa, India
| | |
| --- | --- |
| Accommodations | 7,807 properties |
| Popular hotel | Country Inn & Suites by Radisson Goa Panjim |
| Popular area | Calangute |
| Nightly rates from | $5 |
| Airport | Dabolim Airport |
| Reasons to visit | Beaches, Nature |
Traveler impressions of Goa
Should visit Club cubana wednesdays it is ladies entry and drinks free, happening place.Beautiful place.
In north Goa I found Arambol beach to be most beautiful in all beaches which i visited. It was an awesome place.
There are plenty of things to do like visiting Mapusa market, anjuna flea market and apora market at the beach
North goa offers you the perfect Hippie culture Goa is Known for. Indulge the day in sight seeing, water sports, sticking to a shack and spending all the long just looking into the water, enjoying the best quality and taste of food, while reserve the night for some real party.
Nice beautiful place to explore ....but would require to rent a scooty or car to remain independant and mobile to visit the various far flung places.
North Goa is not a city but a collection of resorts and other sites,The beaches are great for sun loungers but the sea tends to be a bit rough often with an undertow so watch the kids.
Funky little beach/ hippy town. Saturday night markets are an experience not to be missed and the weekly Wednesday Anjuna markets are also great to see.
Lovely, lively and happening part of Goa. Baga beach is one of the most vibrant and happening place in north Goa.
Very nice place to visit when u have time. Very cheap place with lot of activities. Friendly nature people and very nice food everywhere.
Best place to relax and enjoy ....come this place a number of times but u will never get bored.....the best thing about this place
Calangute and Baga beaches are very crowded on holidays - but if you go to lesser known beaches like Anjuna or Candolim, then your stay will be very comfortable and no need to traverse through the crowds.
good hotel nice service all good good hotel nice service all good good hotel nice service all good
I got very BAD one thing there, as i'm a tourist I want to some exchange cash money , I went to the shop it's near the hotel, I asked him to exchange money, he gave me in not bad rate that I accepted that rate, he gave me in cash 2,000 rupees, but that cash is illegality, the shop in bangalore told me if i use this cash money the police will arrest me SURE.
its excellent place for holidays, for following reasons relaxation, full of entertainments, clean city.
Many Russian group tours, the waves is much too strong for the children, south goa is definately a better option, much more relaxed and less crowed groups
North from Calangute and Baga, there are more quiet places. Little towns and beaches, that don't have that much traffic and noise.
Though i visited Goa for beaches n sea, i was really fascinated by great architecture of churches. Vegetation n greenery makes this look even better.
its beautiful place with all convenient amenities, church, historical place.lovely beaches.cleaniness.
It's a beautiful place to visit , people are nice . Beautiful sandy beaches unlike Grand Hyatt... Where you just get to see part of ocean and beach is very stone filled .
If you looking for a happening night life in a beach town the you should visit North Goa especially Calangute to Baga
If u are visiting Goa, then North Goa is the best place to be, it has some of the best beaches, full of life, awesome eating joints and ofcourse shopping.
north goa is full of beaches. i recommend calangute beach, baga beach panaji city, aguada fort, and if possible dudh sagar falls.
Its a place to enjoy the night life and the beaches. This is cost effective when compared to Bangkok and abroad travel.
SEQUERIUM BEACH IS THE BEST CLEAN, QUIET BEACH TO BE VISITED IN THE AFTERNOON TIME AFTER LUNCH & BAGA BEACH GOOD AT THE EVENING FOR RELAX WITH FAMILY & FRIENDS.
Nightlife at its best and all kind of person u will meet at this place very happening and very active nightlife adventures you can do out there.
Must place to visit atleast once in a life time. Beautiful beaches and friendly people. Nice food, specially if you like sea food and dont miss out the Goan Fish Curry !!!
This place is very good for fun loving people. Also one can find crowdy beaches as well as lonely Beaches as per their interest.
Its crowded, but things from food to drinking are very cheap. most places serve good food and plenty of shopping options are available.
Comprises of great beaches like Calangute,Baga,Candolim,Vagator etc ... Good place for dining, relaxation and nightlife as well.
goodgoodgoodgoodgoodgoodgoodgoodgoodgoodgoodgoodgoodgoodgoodgoodgoodgoodgoodgoodgoodgoodgoodgoodgoodgoodgoodgoodgoodgoodgoodgoodgoodgoodgoodgoodgoodgoodgoodgoodgoodgoodgoodgoodgoodgoodgoodgoodgoodgoodgoodgoodgoodgoodgoodgoodgoodgoodgoodgoodgoodgoodgoodgoodgoodgoodgoodgoodgoodgoodgoodgoodgoodgoodgoodgoodgoodgoodgoodgoodgoodgoodgoodgoodgoodgoodgoodgood
---
Goa's best hotels with breakfast
---
Frequently asked questions
What's the average price of a hotel in Goa this evening?
The typical price for a 3-star resorts in Goa tonight is USD 58. The typical price for a 4-star property in Goa tonight is USD 87. The average price for a 5-star resort in Goa tonight is USD 116.
What are the best accommodations in Goa in close proximity to Anjuna Market?
Verified visitors to Goa who stayed nearby Anjuna Market have given top reviews to The Lazy Llama Hostel, OYO 68736 Dhuni Resorts and OYO 42124 Spacious Studios Anjuna Beach.
What are the top hotels in Goa around Baga Beach?
Verified vacationers to Goa who stayed near Baga Beach have given impressive evaluations to Amara Oceanfront Resort and Club Baga, OYO 9378 Home Stay near Baga Beach and TURISTA Hospitality.
What's the top local community in Goa to stay in?
Popular local communities amongst visitors staying in Goa include Candolim, Baga and Calangute.
What are the best places to stay in Goa intended for lone tourists?
Properties located in Goa which are well rated by single vacationers are Resort Primo Bom Terra Verde, Golden Tulip Goa Hotel and Lotus Sutra Beachside Abode.
What places to stay found in Goa are exceptionally rated with regards to value for money?
Accommodationsfound in Goa that is well rated with respect to value for money include Rainforest Enclave, Arpora - 10 mins to Baga, Goa Junction by Daystar Ventures and Guesthouse Sakina Colva.
What are the most suitable accommodations located in Goa that have a private beach?
Accommodations which have a private beach located Goa which are very highly rated include Villa Marina (beach access property), Villa Marina (beach access property) and Villa Marina (beach access property).
What top attraction should I have a look at when I'm visiting Goa?
Top sights in Goa include Baga Beach, Calangute Beach, and Palolem Beach.
What's the best destination for shopping in Goa?
A top location for your shopping spree in Goa is Baga.
Is quarantine required for fully vaccinated visitors to enter Goa?
Quarantine is not required for fully vaccinated tourists to enter Goa from outside the country. For updated and detailed information on travel restrictons, please have a look at the official websites of the travel authority or government of the country you wish to visit, or go to here.
Is pre-departure covid test needed for unvaccinated tourists to enter Goa?
Proof of negative pre-departure COVID-19 test results is required is currently needed to enter Goa. For updated and detailed information on travel restrictons, please be sure to visit the official websites of the travel authority or government of the country you wish to visit, or go to here.
Explore more travel vacation rentals
More about Goa
Goa Hotels: The Best Cities and Beaches to Visit
Located along the southwestern coast of India, Goa is one of the country's best states for beach vacations. The most popular Goa hotels offer incredible water views and direct access to private coastal areas, making them perfect for travelers who are looking to relax and recharge. But beaches aren't all that Goa is known for -- tourists who want a multicultural experience with big-city energy will also find exactly what they're looking for in this exciting state. Book a stay at one of the best hotels in Goa to kick off a memorable solo, couple, or family vacation to India.
Where to Stay in Goa
While it may be India's smallest state, Goa offers no shortage of incredible cities to explore. The capital city, Panaji, is best known for its diverse population and unique mix of traditional architecture and modern technology. It's filled with religious attractions, cultural landmarks, and other can't-miss tourist attractions, making it a top addition to any Goa trip itinerary. As the capital city, Panaji also hosts tourist-friendly events and festivals throughout the year. With so much to do and see, hotels in this city are among the best Goa accommodation options available.

Known as the cultural capital of Goa, Margao is another top travel destination in India. Many cheap hotels in Goa are located in the heart of this city, near popular tourist attractions such as the Municipal Garden. This well-maintained garden features an abundance of local trees, plants, and flowers and is the perfect place for a relaxing stroll. Margao is also home to The Holy Spirit Church, a 17th-century church admired for its incredible architecture.

Since tourists typically come to the state for its amazing coastal views, many relaxing beach hotels are available to book in Goa. The beaches cover around 78 miles of coastline and are divided into North and South Goa. Both districts offer a handful of different beaches, some of which are quiet and relaxing and others teeming with activity. The best North or South Goa hotels to book will vary depending on the traveler's preferred vacation vibes.
Beach Hotels and Resorts in Goa -- North District
Some of the most crowded beaches are located in North Goa, making it the best place for travelers who want an exciting beach experience. Goa hotels near Baga Beach or Calangute Beach are especially popular with adventurous couples and families. However, the district also offers some quieter coastal areas for tourists looking for a more relaxing and peaceful experience.

Baga Beach comes alive during the daytime with thrilling water sports, including parasailing, kite surfing, and jet skiing. At night, the party continues at places like Tito's Nightclub on Tito's Lane, where guests can enjoy music, dancing, live performances, and more. Beachfront hotels in Baga Goa are perfect for young travelers who want to experience the best in Indian nightlife.

Calangute Beach is another top spot for outdoor recreation, with plenty of water equipment available to rent. Shops and stalls near the coast offer souvenirs, cold drinks, snacks, and more. At night, several bars and nightclubs cater to the tourist crowd. Book cheap rooms in Goa near Calangute Beach to stay close to the action.

Mandrem Beach is a peaceful paradise with soft white sand, clear water, and incredible sunset views. A small fishing community supplies the beach shacks and restaurants with fresh seafood, and a yoga school offers drop-in classes for visitors. Travelers looking to visit this isolated area can book one of several luxury resort hotels in Goa with direct beach access.

Candolim Beach boasts soft sand and a variety of shopping options near the coast where tourists can purchase clothing, handbags, and handcrafted souvenirs. It's typically not very crowded, making it an excellent location for casual swimming and sunbathing. Hotels in Candolim Goa often consist of apartment rooms with full kitchen facilities, making them great options for families and budget travelers.

Anjuna Beach has something for everyone, with water sports rentals, delicious food and drinks, and shopping spots. Hotels near Anjuna Beach in Goa include everything from heritage properties to modern resorts. During the evening, guests can enjoy music, drinks, and dancing at one of the many bars and clubs near the coast.
Beach Hotels and Resorts in Goa -- South District
Dozens of luxury and budget hotels in Goa are located in the South District, where quiet, scenic beaches await lucky tourists. This area is ideal for family vacations, but solo visitors and couples also will enjoy their time here. While nightlife seekers should stick to North Goa, South Goa hotels provide a much-needed respite for those with busy lifestyles who want to escape the crowds.

Palolem Beach is known as South Goa's most beautiful beach and one of the best beaches in India. Its unique crescent shape allows visitors to get a great view of the entire sandy beach from either end. Since it offers shallow areas with slow currents, it's a popular place for swimmers of all skill levels. Goa hotels near Palolem Beach range from budget-friendly options to luxury resorts.

Agonda Beach is a quiet spot to participate in water sports, like surfing, kayaking, and jet skiing. The white sand beach is lined with colorful shacks that serve traditional Indian and international food and drinks. It's also a nesting ground for sea turtles, so lucky tourists may catch a glimpse of these creatures when booking hotels in Goa during the nesting season. Just don't disturb them.

Colva Beach is best known for its incredible rows of coconut palms lining the shore. This stunning white sand beach offers a variety of food stalls and restaurants where guests can enjoy fresh seafood and other delicacies. Goa resorts and hotels near Colva Beach typically offer luxurious outdoor swimming pools, spa facilities, and more.

Benaulim Beach offers a flat, expansive space for sunbathing, with lounge chairs and umbrellas available for added comfort. Shops and stalls serve food and drinks, and some rent water sports equipment. Hotels in the area are some of the best South Goa accommodation options for anyone who desires a classic beach vacation experience.