Discover the neighborhoods of Samut Prakan Province
---
4-star hotels in Samut Prakan Province
---
This my second stay at Paeva. I really love this location. It is remote in terms of access to major shopping malls and city centre, but within 30 minutes drive of all. Plenty of top class golf courses nearby.Staff n hotel are polite and helpful. Rooms are spacious and pool is excellent. While the breakfast was disappointing the restaurant served excellent food for dinn...
---
We had to visit a relative in hospital and this was a convenient place to stay. The majority of the guests here are Chinese tourists stopping over on their way to Pattaya and so there are large numbers of coaches revving up and manoeuvring up until late evening which was quite disruptive / not relaxing. The wifi system was patchy, either able to connect but no connec...
---
isanook' manager, Tim is an open-minded person. he made our stay comfortable. his coffee from Chiang Mai is wonderful. it was a good stay for our family. it will be the best choice as a transit hotel if the hotel provide the shuttle from BKK.
---
5-star hotels in Samut Prakan Province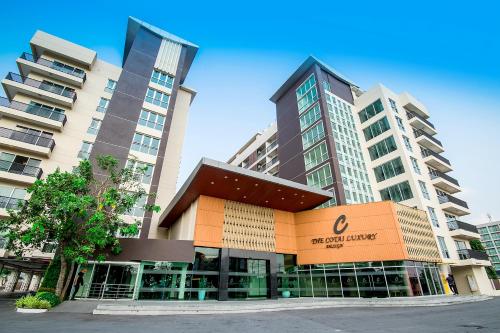 ---
I booked this hotel for my Mother and Brother for 2 nights. Receptuon would not issue a second key for the room so they could not really go out separately. Also, this hotel is geared up only for Chinese tourists. The breakfast area was very noisey and unpleasant. The presentation of the food was disgusting. For example the butter was contaminated with other foods and...
---
More about Samut Prakan Province
While in Thailand, be sure to explore the Province of Samut Prakan. Agoda.com offers big savings on 76 hotels in top locations. A visit to Samut Prakan will make your trip to Samut Prakan worthwhile. Getting around Samut Prakan is easy with the Province's major airports as access points to major cities. More than 3,500,000 travelers have chosen Agoda.com to find the perfect hotel in Samut Prakan.